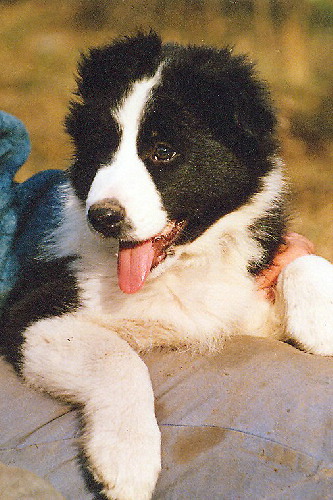 Naše border kolie s námi žijí... / a oni si možná myslí to samé o nás :)
Tu první jsme si pořídili v roce 1996 - Pupina (Babe Bohemia Alké) byla skvělá - správná borderka, a nezůstala sama moc dlouho :). Opustila nás ve svých patnácti a půl - naplno prožitých - letech.... A není to fráze, když napíši, že na ní nikdy nezapomeneme.
Chovatelská stanice "Z Černobílých" byla založena pořátkem roku 1998. Od té doby se snažíme, aby od nás odcházela štěňátka zdravá, s vyrovnanou povahou a temperamentem a také aby byla "krásná" :) a zároveň splňovala požadavky standardu.
S našimi psy - i štěňaty - sme skoro stále v kontaktu, nejsou a ani nikdy ani nebudou kotcoví psi.
Štěňata odchováváme v domě, v kontaktu s námi, návštěvami, ostatními psy, kočkami apod....Do nových domovů odcházejí naše štěňátka socializovaná, čipovaná i tetovaná, očkovaná, několikrát odčervená a se zárukou, že nikdy nemohou onemocnět CEA a TNS a CL.
Kupní smlouva a rady do začátku jsou samozřejmostí, stejně jako krmivo, na které byla štěňata zvyklá u nás. Osud našich odchovů nás samozřejmě zajímá a vítáme,
když s námi jsou jejich majitelé s námi v kontaktu. Kdykoli u nás mohou hledat radu i pomoc, nebo si třeba jen přijet vyzkoušet, co jejich miláček řekne na stádečko ovcí :)
Jsem moc ráda, že někteří majitelé našich štěňátek se k nám po letech vrací pro další mrně a jsem také ráda, že mnoho majitelů našich štěňat mohu nazývat přáteli.
Těm, kteří naše odchovy reprezentují na výstavách, agility, flyballu, dog dancingu a na dalších podobných akcích, i těm kteří mají své borderky pouze jako aktivní miláčky rodiny a občas se nám ozvou, nebo pošlou fotku ze srdce děkujeme, moc nás to těší.
***
DNA CEA
DNA TNS
HD

Show / exams

Health

- other

"S1" *18.1.2021
Christopher
Open Gate
x
June ´s Gift J!nx
z Černobílých

Super Mario

all pups normal by parentage
all pups normal by parentage

Silver Sarah

"R1" *4.11.2020
New Divine Rhythm That´s the One
x
Iadara of Ora
z Černobílých

Really Happy Roy

all pups normal by parentage
all pups normal by parentage

Reggae Dancer

Rare Design

Rhapsody in Black

Rhythm of Heart

Ruffian Black Pearl

"Q1"/external/
(Co-breeder
Ondřej Vacula)
*28.6.2017


Treasure of Life a Cool Caspar/ A x Tiny Twister z Černobílých

Quick a Flash

all pups normal by parentage

Quiz Master

Quaint Spotted Ellie

Quantum Love

"P1" *12.4.2020
Brainiac Borders Genesis
x
Frozen in Time z Černobílých

Perky Prank

all pups normal by parentage
all pups normal by parentage

VP4 (Club show)

Pink Pepper

Pure Devil is Back

Pande-Mia

VP3 (Club show)

Pinky Promise

VP

Prime Time

"O1"/external/


(Barbora Heinzová)


*31.3. 2020
Due Parchi Pic Pokey Geronimo Mathieson
x
Dewy Jewel
z Černobílých

Oncoming Blue Storm

all pups normal by parentage
all pups normal by parentage

One King Ozzie

Our love Affair

One Dark Raven

Ornament of Gold

Our Black Olivia

Outstanding Power

"N1"/external/
(Co- breeder Marie Haniaková)
*22.3. 2020
Glamdring´s Glow
of Bordertreowe
x
Demonic Cat
z Černobílých

Night Dancer Alvin

all pups normal by parentage
all pups normal by parentage

North Irbis Nico

P (Club show)

Nothing Better

VP3 (Club show)
VP2 (Special show)

New Tiffany Star

Next Hope Sey

Nimble Nancy

"M1" *7.2.2019
New Divine Rhythm That´s the One
x
Frozen in Time z Černobílých

Mr. Blue Sky

all pups normal by parentage
all pups normal by parentage

Made in Heaven

Makes me Happy

A

ED 0/0, OCD free, Spond. 0, Patelly 0/0

Maybe I´m Crazy

Exams: ZOP

Miracles Happen

Crufts qualification

BAER +/-

"L1"/external/
(Co-breeder
Barbora Heinzová)
*22. 8. 2018
Get in the Ring of Dashing Dawn
x
Dewy Jewel
z Černobílých

Latest Flame

all pups normal by parentage
all pups normal by parentage

Liberty Belle

Living Colour

kastrovaná

Lover Dream

Lunar Jewel

"K1"/external/
(Co-Breeder
Marie Šípová)
*6.7. 2018
New Divine Rhythm That´s the One
x
Quo Vadis Star z Černobílých

Keanu Reeves

all pups normal by parentage
all pups normal by parentage

King of Pop

Kirk Lee

Kalista Lizzard

Karat Jewel

VG

"J1" *18.6.2018


Kendrick at Real Pearl / HU
x
Over the Rainbow -IZ z Černobílých

Jazz Singer

all pups normal by parentage
all pups normal by parentage

Jon Snow

Joyful Star

June´s Gift J!nx

A
CAJC, BOJ, Crufts qualification
Exams: NHAT, ZM

ED 0/0, OCD free, LP 0/0

Just Unique Joke

kastrovaná

"I1"
*20.12.2017
Bordermania
Fortune Hunter
x
Kia Ora my Princess z Černobílých

Istary Wizard

all pups normal by parentage
all pups normal by parentage
A

ED 0/0, OCD free

Illusionist´s Charm

A

SK Club. Ch

, CAJC, BOJ, CAC, res CAC
Exams:

MoD1

(F1, HtM1, MD1, DwD1), M

D 2, F 2, DwD 2

ED 0/0, OCD free, Spond. 0, LP 1/1

Infernal Dancer

A
JCH CZ, 2 x CAJC
Exams: NHAT, LA1

ED 0/0, OCD free, Spond. 0, LP 0/0

Ivory Storm

VP

Iadara of Ora

A
CAJC, BOJ, 10x CAC, res. CACIB, Club. CH. BCCCZ,
CH CZ,

CH Rumunska


Exams: NHAT, HWT. ZM, BH, ZZO
ED 0/0, OCD free,
LP 0/0

I´ve Angeles Fortune

+ 12/2019 - epilepsie

"CH1"/external/
(Co-breeder
Ondřej Vacula)
*28.6.2017


Kaleidoscope a Real Hero x Tiny Twister z Černobílých

Chocolate Chips

all pups normal by parentage
all pups normal by parentage
A
JCH RO, CH BG, GCH BG,
Club. Champion BCCCZ


Exams: ZM, NHAT, ZOP

ED 0/0, OCD free, Spond. 0

Chain of Lov

e

A

Ex

ED 0/0, OCD free, Spond. 0

Charmed by Life

A
CAJC, BOJ (Special sh.), BOB,
Club. Champion BCCCZ

ED 0/0, OCD free, Spond. 0, Patelly 0/0

"H1"/external/
(Co-Breeder
Irena Koĺveková)
*7.3.2017
Trucharm my Brillantino Tale
x
Orchid´s Blossom
z Černobílých

Heart-Breaker

all pups normal by parentage
all pups normal by parentage
A
JCH PL, CH SK, CZ, PL, Club. Champion BCCCZ
CAC (Club Show), CACIB....
Exams: ZM, BH, ZOP

ED 0/0, OCD free

Hidden Marvel

His Majesty

Hot Charm

Heaven-Sent

A
JCH PL

ED 0/0, OCD free

"G1" *29.12.2016


New Divine Rhythm That´s the One
x
Over the Rainbow -IZ z Černobílých

Gandalf the Grey

all pups normal by parentage
all pups normal by parentage
+7/2018

car accident

Ghost Buster

Great Gatsby

Godric Griffindor

Graceful Gale

"F1" *24.7.2016


Eyes of the World Nothing Else Maters / Be
x
Jingle Bell
z Černobílých

Fabled Black Star

all pups normal by parentage
all pups normal by parentage
JCH UA

Fantom Face

B

ED 0/0, OCD free

Fearless Paddy

Final Countdown

Frozen in Time

A
JCH CZ, CH CZ, Club. Champion,
BOJ, CAC SK, 3xCAC, res. CACIB, 3x res. CAC
Exams: NHAT, ZM, BH, ZOP, ZZO
ED 0/0, OCD free ,
BAER +/+
"E1"/external/


(M. Šípová)


*. 2016
Glen
x
Quo Vadis Star z Černobílých

Early Sunrise

normal by parentage
normal by parentage
B

Ex

ED 0/0, OCD free

"D1"/external/


(B. Heinzová)


*24.4. 2016
New Divine Rhythm that´s the One
x
Safira Sey
z Černobílých

Dancer in Rhythm

all pups normal by parentage
all pups normal by parentage
A

CAJC, CAC

ED 0/0, OCD free

Dare I Say

Divine Fairytale

Devilish Lily

zálomek

Demonic Cat

A

VP

ED 0/0, OCD free

Dewy Jewel

A

Ex

ED 0/0, OCD free

Dragon-Fly

Ex
Exams:

F1, MD1

"C1"/external/
(Co-breeder
Irena Koĺveková)
* 2016
Hi Alderaan of Maranns Home / PL - Be
x
Orchid´s Blossom
z Černobílých

Can-Can Carnival

all pups normal by parentage
?

VP

Cris-Cross Code

?
"B1"/external/
(Co-breeder
Zuzana Bartlová)
*2016
Xavier Foxy Fox
x
Snowflake
z Černobílých

Billberry

all pups normal by parentage
all pups normal by parentage
?

Beetlejuice

?

Bombastic Barney

B
JCH CZ, 2 x CAJC, CAC
Exams: ZVOP, NHAT, OB Z, OB1, ZOP

ED 0/0, OCD free

"A1" *15.7.2015


Ready Steady Go Gasko Prim
x
Kia Ora my Princess
z Černobílých

Aatrox Darkin

all pups normal by parentage
all pups normal by parentage
?

Admirer Crown

?

Aglow Angel Toffi

?

Addicted to Love

B

Exams: ZOP

ED 0/0, OCD free

Alfecca Meridiana

?

Azura Ora Daedra

A

JCH ČR

,

Rumunský šampion, ČMKU šampion


Club winner BCCCZ 2017, 2 x BOB, VSV, CACIB;
Exams: ZOP, BH, AD
ED 0/0, OCD free
+ 2019 maligní lymfom

"Z" *11.7.2015


Timothy Foxy Fox
x
Over the Rainbow - IZ
z Černobílých

Zakkiel Angel

all pups normal by parentage
all pups normal by parentage
?

Zen Mirakle

?

Zephyr Tim

?

Zero Relax

?

Zipper for Fun

C

+ 5.9.2017 nádor

Zirkonia Rainbow

C
Ex, CAC
Exams: ZZO

ED 0/0, OCD free, Spond. free

Zone of Fire

?

+ 5.9.2017

"Y" *8.5.2015


Diplomat z Bengasu
x Jingle Bell
z Černobílých

York´s Charming Son

all pups normal by parentage
all pups normal by parentage
?

Young in Heart

?
zálomek

Your Clam is Gone

?

YoYo Just for You

?

Yes I am a Princess

A

ED 0/0, OCD free

"X"/external/
(Irena Koĺveková)
* 4.3.2015
Borderline Country Leonardo/A
x
Orchid´s Blossom
z Černobílých

X-pert Jump

all pups normal by parentage
all pups normal by parentage
?

X-tra Fine

?

Xandria Ria

?

Xena Princess

?

Xi - Xao Runner

A/B
BIS 3 Baby, CAJC, 2 x CAC
Exams: ZZO

ED 0/0, OCD free

Xtreme Smart

?

VP 1

"W" *24.3.2014


Firstclass
at Real Pearl / HU
x Kia Ora my Princess z ČB

Wanderer Worthy

all pups normal by parentage
all pups normal by parentage
A
VP
Exams: ZZO

HD 0/0, OCD free

Witty White

?
"V"/external/
(Irena Koĺveková)
* 24.2.2014
Borderline Country Ravel / A
x
Orchid´s Blossom
z Černobílých

Vagabond Boy

all pups normal by parentage
all pups normal by parentage
?

6.w.-PRA,CEA, Cat. neg.

Vandar Tokare

?
6.w.-PRA,CEA,Cat.neg.
/kryptorchid

Voodoo Charm

?
6.w.-PRA,CEA, neg.
PPM, Cataracta

Velvet Dream

A

Excellent

ED 0/0, OCD free; 6.w.-PRA,CEA, Cat. neg. PPM (iris/iris)

VIP Victory

A
Excellent, 2x CAC
Exams: ZOP

ED 0/0, OCD free
6.w.-PRA,CEA, Cat. neg.

Viper´s View

?

6.w.-PRA,CEA, Cat. neg.

"U" * 7.12.2013


All that Jazz from Borders Paradise / D
x
Over the Rainbow- IZ z Černobílých

Unicorn Magic / Russia

all pups normal by parentage
all pups normal by parentage
?

JCH Rus

,

CH Rus,

BOB, BOS, JBIG 3.

Utterly Crazy

?

podkus

Ultramarine Flower

C
ED 0/0, OCD free
zálomek

Una Astra / Russia

?
JCH RUS, JCH Beloruska


CH Rus, CH Beloruska

, BOB

Use your Heart / Polsko

A
CAC - club show


CH PL

"T" * 8.8.2013


Borderline Country Justinstyle / A
x
Jingle Bell
z Černobílých

Tic-Tac-Toe / Polsko

all pups normal by parentage
all pups normal by parentage
?

Exellent

Twinkle Drake

A

Club. Champion BCCCZ,

J

CH SK, JCH C

Z

, 6 x CAJC, VSV

, 3 x res. CAC, CAC, KV, BOS
Exams: LA1, LA2, LA3

ED 0/0, OCD free

Tangerine

?

VP 1

Terrific Speed

A
CH Montenegra, GCH Montenegra, CH Jadranu, Balkánu a Středozemí, Croatian CH,

JCH CZ, SK,

3xCAJC, 5x BOJ, VSV, BOS (Club show), 8 x CAC, CACIB, CWC


Exams: ZVOP, ZZO, ZOP, ZZO1

ED 0/0, OCD free

Tiny Twister

A
CAC, r. CACIB,
res. CAC spec. show

ED 0/0, OCD free

"S" *7.7.2012


Firstclass
at Real Pearl / HU
x Kia Ora my Princess z ČB

Single Blue Boy / Ukraina

all pups normal by parentage
all pups normal by parentage
?
2 x J. CAC,,2 x BOB. 3 BIS
Exams: ОКД, ЗКС

Safira Sey

A
JCH ČR, 3 x CAJC, 2 x BOJ,
4xCAC, 2xCACIB, 2 x r. CAC, NV, BOB, BOS, best female club show
ED 0/0, OCD free
+2017 / trauma

Snowflake

A

Exams: ZZO, ZOP, ZVOP, HWT, ZZO1

ED 0/0, OCD free

"R" /external/
(Anna Švejková)
*11.1.2012
Gentleman of
Tennant
x
Eglantine
z Černobílých

Rainy Luck

all pups normal by parentage
?

+ 2014 rakovina

Red Weed in Blue

?

Roving Rook / Slovakia

?

Royal Crown / France

?

Rainbow Rosette

?

Rosehip a Rose / Slovenia

A

BIS baby

ED 0/0

Rosemary Flower

A

Exams: MD1

ED 0/0, OCD free

Ruby Ring

?

"Q" * 1.12.2011


Simaro
Chase the Star / D
x
Jingle Bell
z Černobílých

Quickstep Dancer

all pups normal by parentage
all pups normal by parentage
A
JCH CZ,

CH CZ, Club. Champion BCCCZ, Grand Champion

, 2x CAJC,


Crufts 2014 Ex 5

; BOJ, CACIB,
8 x CAC, 3 x res. CAC,
Club winner BCCCZ 2017, Best adult Dog - cl. show
Exams: ZVOP, HWT, ZOP, canistherapy Exam, LA1, LA2

ED 0/0, OCD free

Quiet Riot

A
Ex, CAJC, Cl. junior winner,
2x CAC
Exams: LA1, LA2. LA3

ED 0/0, OCD free

Quince Brandy

?
Ex, 2 x CAJC,
Club junior winner, BOJ, BOB,
2 x res. CAC

Quiteso Jessica

?
Exelent
Exams: ZZO

Quo Vadis Star

A
CH CZ, CAC (club show)
Exams: ZVOP, HWT, ZOP

ED 0/0, OCD free

"P" /external
(Anna Švejková)
* 20.9.2011
Sportingfield North Star / USA
x
Dandelion Dream
z Černobílých

Pepper Force

all pups normal by parentage
?

Prince of Sprite

?

Panda Face

?

Perfect Princess

A
Exams: DwD1, F1, Htm1, Htm2, MD1,MD2, Master of Dancing 1, AD1, MoD1

ED 0/0, OCD free

Poppy Doll

?

Pretty Woman

?

kastrovaná

"O" *1.6.2011
Flower Old of Hill Grog / HU
x
Etual Enigma
z Černobílých

Only Dandy Jace

all pups normal by parentage
all pups normal by parentage
?

Ozzy Osbourne

?

Oh my Goddness

?

Open Heart

A
Excelent
Exams F1

ED 0/0, OCD free

Orchid´s Blossom

A

Excelent (club sh.)

ED 0/0, OCD free

Our Black Rose

C

Ex., res. CAC

Over the Rainbow - IZ

A
Ch ČR, Club Champion BCCCZ,
JCH ČR, 6 x res. CAC,
2 x CAC, 2 x res. CACIB
Exams: ZVOP, ZZO, BH, ZOP, ZM

ED 0/0, OCD free

"N" /external/
(Anna Švejková)
* 31.12.2011

Cenny Ideal Bohemia Alké
x
Dandelion Dream
z Černobílých

Nearly Perfect

all pups normal by parentage
A
Excelent
BH, ZVOP, ZZO, OB1, ZZO1

ED 0/0, OCD free

Nice Madcap

?

No Limit

?

Number One

?

VP

Nanny Ellis

A

Excelent, National winner / ZVOP

ED 0/0, OCD free
+2016

New Dandelion /Polsko

carrier
?

Excelent / ZVOP

Norma Jean

A
VP;
ZVOP; ZZO

ED 0/0, OCD free

all pups normal by parentage

?

?

carrier

B

?

"L" /external/
* 23.10.2010
Cassidy
z Bengasu
x
Chocolate Honey
z Černobílých

Lamborghini Speed

all pups normal by parentage
?

Leader of the Gang

?

LA 1

Lion Heart

?

Lord of Dreams

?

Dog Dancing

+ 1/2015 /trauma

Lucky Luke

?

Little Lady Bird

?
"K" *25.5.2010
Shoreland´s
Storm
at Skuddenhof /USA
x
Etual Enigma
z Černobílých

Keen Wind

all pups normal by parentage
all pups normal by parentage
?

Keep Smiling

?

Key to Joy

?

Kiwi Storm

?

Kia Ora my Princess

A

JCh. ČR,

CH ČR, GCh ČR, Club Champion BCCCZ,


J. BOG 1, CACIB, 6 x CAC, 4 x res. CAC /
ZVOP, HWT, BH

ED 0/0, OCD free

"J" * 12.5.2009
Bayshore´s
Count Chocula / USA
x
Etual Enigma
z Černobílých

Jaunty Jethro

all pups normal by parentage
all pups normal by parentage
B

Ex.

Just my Jonas

?

Janet for Charlot

?

Jingle Bell

A
CH ČR, Club Champion BCCCZ,
Jch. ČR, BOS,
/ ZVOP, BH, ZOP, ZZO

ED 0/0, OCD free

"I" * 23.3.2009
Eyes of the World Galaxy / BE
x
Henriet
Czechmate

I´m Brown Imp

all pups normal by parentage
A

Ex.

ED 0/0

Ice Blue Boy

?

+2.11.2020

Ideal Image

normal
A
Ex., regional winner /
A1, A2, ZOP, ZZO, FLY 17, BH

ED 0/0, OCD free

Iloskye Mousy

?

Incredible Spot

?

Kastrovaný

Immortal Beauty

normal
B
A3 CHAMPION,
Club Champion BCCCZ,
2 x CAC, 2 x res. CAC, res. CACIB
MA 1,2,3; Fly 18, CACAg.
ED 0/0, OCD free
+27.11.2020

Isaboo Sweety

?

+16.9.2017

"CH" *28.8.2008
Geri
Foxy Fox
x
Henriet
Czechmate

Champion Carlos

all pups normal by parentage

Ex.

Chippper Nico

Ex.

Cheerful Paw / Slovakia

Chitta for Lucky

carrier
A
Ex., 2 x CAC,
2 x res. CAC

Chocolate Honey

carrier
A

res. CAC / ZVOP

"H" *13.4.2008
Cherokee
Rubínové srdce
x
Etual Enigma
z Černobílých

Heaven and Hell

all pups normal by parentage
all pups normal by parentage
C

ZVOP, BH, MD 1, HtM1

stud dog

Hearty Duckie

A

kastrovaný, +2016

Handsome Little Foll

A

stud dog

Happines for You

?

Happy Honey- Bee

A

Ex.

Hazel-Nut

A

Ex. / ZVOP

"G" *4.10.2007
Laetare Be Just / GB
x
Henriet
Czechmate

Grumble RM Sting

all pups normal by parentage
A
Ex., LA 2, LA3

stud dog

Gucci Brown

carrier
A

ZOP, ZZO, ZVOP

ED 0/0;
kastrovaný

Gypsy Black King

+8/2018

Gyzmar Red Prince

Gem Grace Merlot / PL

-

+2007

Glayzy Tri Spice

A

Grisel Red Fox

A

ZOP, ZZO, LA 1

"F" *7.10.2006
Bayshore´s Count Chocula / USA
x
Henriet
Czechmate

Fiend Chocco

carrier
all pups normal by parentage
B

2 x CAJC, CAC, CACIB, WDS Bratislava Ex

ED 0/0
+ 2013

First Red Flame

?

Freak Fairy

?

Funny Flea

D

Ex., CAC / ZOP, ZPU 1

Fire Red Fire

carrier
A
JCH ČR,

CH ČR

,


2 x BOB, NV, 2 x CAC, CWC, res. CACIB
"E" *4.10.2005
Geri Foxy Fox
x
Henriet
Czechmate

Earl - Grey

carrier
all pups normal by parentage
A

JCH ČR,

CH ČR, SK, KCH

, NV, CACIB, BOB
Exams: ZVOP, ZPOP1, ZZO, ZOP, BH, ZM, ZPU1, GH1, OB - 1,2,3; HWT, MD1, DwD1, MD1

ED 0/0







Ebony Eager

-

Emerald Eiwo

carrier
B

res. CAC

+17/3/2019

Errand Boy

carrier
B
Club Champion BCCCZ,
2 x CAC, 3 x res. CAC. res. CACIB / LA 1,2; HH, ZOP

+19/3/2019

Exclusiv Easy / Slovakia

B

Asistant dog

+2018; kastrovaný

Eglantine

carrier
(Liběchov)
A

Ex.

+2012

Elder Berry

C

JCh ČR

,

KChMPP

, BOB, CAC SK, CAC

ED 0/0




Etual Enigma

normal

A

Ch ČR, SK, KCh, Gr. Ch.

,2x BOB, 2 x CACIB
Exams: ZVOP, ZPOP 1, ZOP

z Černobílých
x
Henriet
Czechmate

Dandy Dab

A

LA1, LA2, LA3; FLY 18

PRA,CEA neg.; +

Djamy Dart

-

CEA neg. 6 t.

Daiquri - Dot / Slovakia

-

agility

CEA neg. 6 t.
+ 26/3/2016

Dandelion Dream

Carrier (Liběchov)

normal
A

res. CAC, CAC

PRA, CEA neg.
+6/2017

Daring Didi

B

ZOP

CEA neg. 6 t.

Dazzle Trixi

-

ZVOP, LA1, LA2

CEA neg. 6 t.; +21.7.2017

Dolce & Gabana

-

CEA neg. 6 t.

Dwarf Tiny

A

Ch ČR, KCH

, CACIB
Exams: FPr 1,2,3; ZPS 1, IPO1, ZVV1, ZPU1, 2; ZZO,ZM,BH.ZOP

ED A, PRA, CEA neg.; +1/2019

"C" *16.10.2002
Frankie Akumulator
x
Babe
Bohemia Alké

Casper Roy

-

working dog

Cassidy Fantasy

B

kastrovaný; 10/2018

Clever Kip

-

Cookie Casch

-

+2017

Corries Joy

-

working dog

+2016

Crazy Boy

-

working dog

Cyklon Craig

-

working dog

Colly Magic

-

+22/12/2018

"B" *20.7.2001
Florey
Bohemia Alké
x
Babe
Bohemia Alké

Bewick Swift

B

ZVOP, ZPOP 1, 2

Biggi Boy

C

CAC. KV / CACIAg., LA1,2

+ 9/2015

Black Jack

-

kryptorchid , + 10/2015

Blue Birks

-

+ 2015

Bright Speedy

-

Boogy Boogy

-
"A"*5.12.1998
Caristan Jaguar / GB
x
Babe
Bohemia Alké

Anwar Jack

A

Ex, CAC / ZVOP

+ 2012

Arlinn Black

C

Artuš King

-
Ex. /ZOP, LA1,
ME fly 04- 3. místo

Alsinka Border

-

Annabel Queen

-